Elements That Make Up The Shirt
A Closer Look At The Bil's Shirt
1. Back Body
2. Front Body
3. Yoke
4. Arm
5. Cuff
6. Collar and Collar Stand
7. Placket
8. Sleeve Placket
9. Sleeve Placket Binding
10. Button
11. Collar Stays
1. Back Body
2. Front Body
3. Yoke
4. Arm
5. Cuff
6. Collar and Collar Stand
7. Placket
8. Sleeve Placket
9. Sleeve Placket Binding
10. Button
11. Collar Baleen
Bil's Men's Style and Collar Guide
When it comes to different collar models, it can be a little confusing which collar model to choose and where to start. Therefore, it is useful to take a look at the Bil's Collar Guide prepared for you, which examines our 4 main collar models.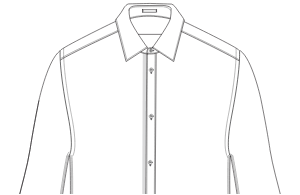 Hamburg
Classic Collar
Our "Hamburg" collar model is based on the classic collar, one of the most standard and common collar types. This collar model, which you can easily use at work, dinner, or events like weddings, can be combined with a classic suit or with jeans and a blazer. Especially when used with a tie, since it will frame the shape of the tie, it will make your face stand out and it suits up every face shape.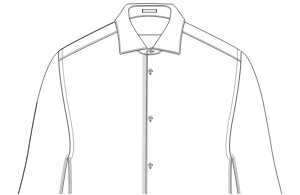 Milano
Spread Collar
Our "Milano" collar model is based on the spread collar, which is indispensable for modern shirt designs. As with many split collar models, it fits perfectly with the Windsor tying style. You can combine it with your classic work suit or you can use it with your sport jacket or knitwear without a tie and with an open collar button for a more casual look. Even though it suits all face shapes thanks to its balanced structure, it gives the best results on thin and long faces.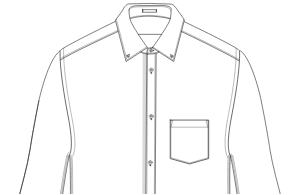 San Diego
Button-Down Collar
Our "San Diego" collar model is based on the button-down collar model, one of the most iconic collar models in shirts history. This collar model, which first appeared in the 1800s, was invented so that the collar ends of the polo players in England remain fixed during the game. This iconic collar model, which has never been out of style ever since the 1800s, has become an essential and go-to piece in every man's wardrobe. It is perfect for everyday use with its casual and smart look.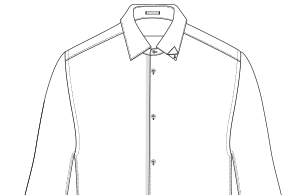 London
Hidden Button-Down Collar Model
Our "London" collar model is based on the hidden button-down collar model, which offers both simplicity and functionality at the same time. Thanks to the buttons and buttonholes under the collar ends, the collar of your shirt looks at its best condition throughout the day, even without a tie. This collar model, which you can use in every time of the day, has become one of the modern classics in shirt history. With this model, you are ready for any office event even if you do not use a traditional suit and tie.
Bil's Men's Fit Guide
Now that you have chosen the collar model that suits you and your style best, now it is time to choose the most comfortable shirt fit and size for your body type. You can take a look at the fit guide and size chart prepared by our design team for you below.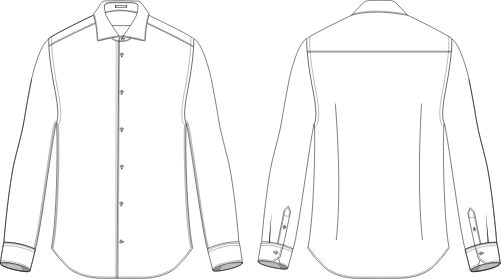 Slim Fit
As the name suggests, slim fit shirts are tighter in the chest and waist area than other types of shirts. If the proper size is chosen, it makes the chest and waist areas of the body stand out and it makes the wearer's silhouette look sharp. It has a tighter arm circumference than regular fit shirts.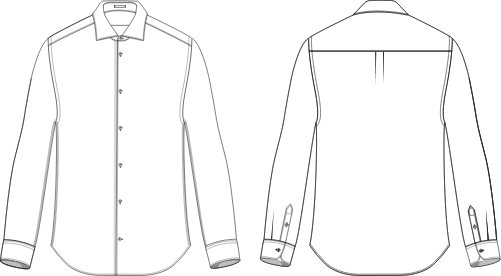 Regular Fit
Regular fit shirts are larger around the chest area, more comfortable in the armpits and they have a wider structure around the waist in order to provide more space for the user when compared to other types of shirts. In addition, the arm circumference is wider than the slim fit shirt.