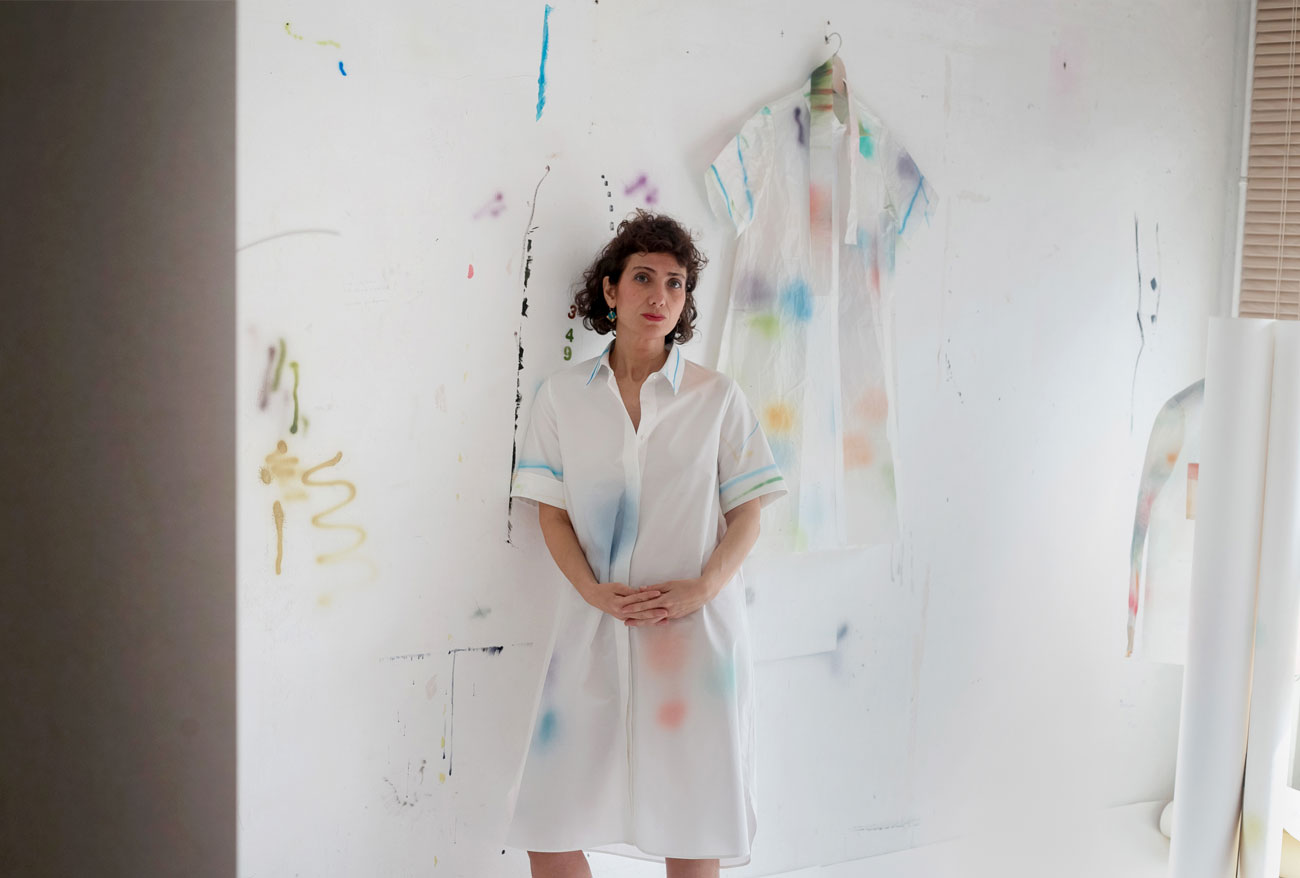 Due to Bil's collaboration and her exhibition titled 'Rehearsal' she held at Bilsart in parallel to this, Inci Furni and I had the chance to work together for quite some time. I had a conversation with her about the "on Color" Collection, her art practice and her exhibition at Bilsart, which was part of "Senkron: Synchronized Video Exhibitions". Enjoy…
Photos by Elif Kahveci (@elifkahveci)
Hello, Inci! First of all, could you tell us a little bit about yourself? What is your educational background, and where do you live and work? What do you spend most of your time doing these days?
Hello, Ceren! I completed my BA in Painting at Mimar Sinan Fine Arts University. Before that, I graduated from the Department of Textile and Fashion Design at the same university. I worked in that market for about a year, but I didn't like it. So, I've decided to study Painting. I currently live and work in Istanbul. It's going well. ????
In your art practice, you primarily use lines and patterns. What motivates you? Could you tell us about your production process?
Yes, everywhere I look, I see patterns. I have a process-oriented, performative working method based on improvisation and of course, I work on certain subjects. I reconsider the main themes of painting such as everyday life, still life, landscape, portrait, etc. My primary concern is creating a holistic exhibition at a certain place by properly placing a painting, a pattern or a video art, and making them a part of that space as well as shifting the places of the things that are specific to indoor and outdoor spaces.

What does wearing a shirt mean to you? What is its place in your everyday life? Could you share your thoughts on Bil's and its products?
To me, a shirt is a garment that allows me to move freely. I usually wear it to work, which is the most common case. Before making this design, I briefly researched the history of the shirt; it was designed for the upper body and was mostly worn by men. It was used as an undergarment until the 20th century and was mostly colourless. Then, of course, as the meaning of labour changed with the 20th-century industrialisation, so did the colours that represent the working class. Today, I believe, Bil's shirts also appeal to certain social classes in business life. Very nice, high-quality designs. All thanks to you.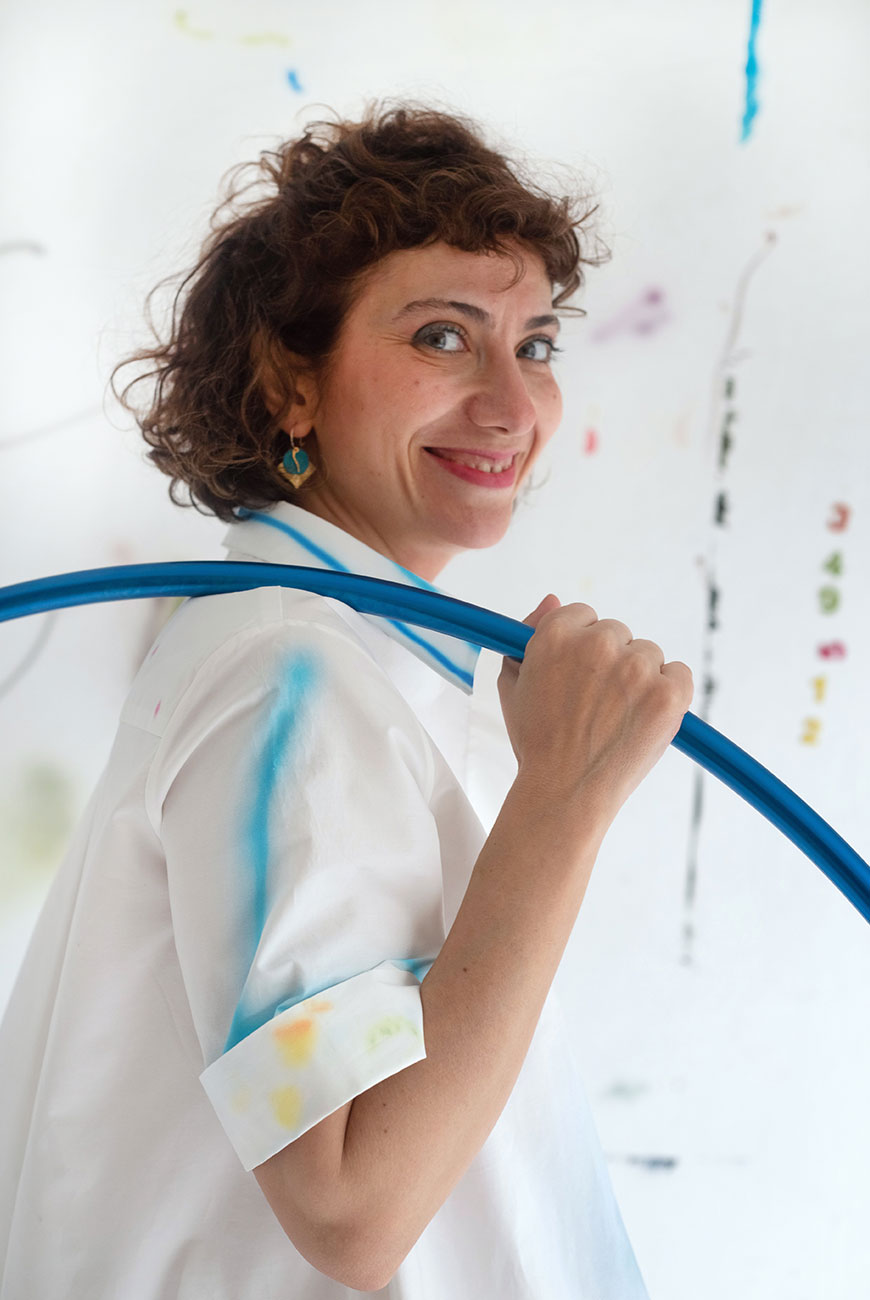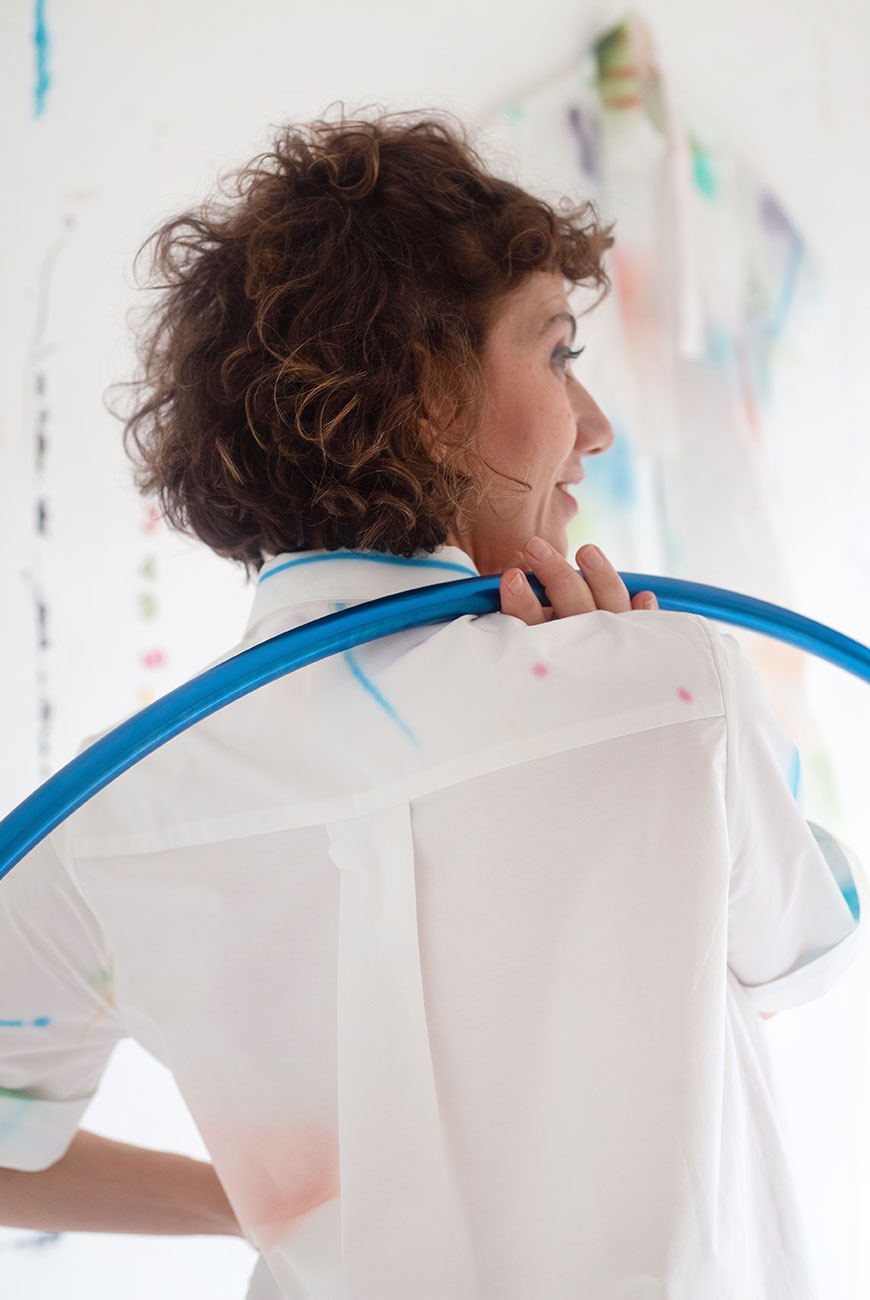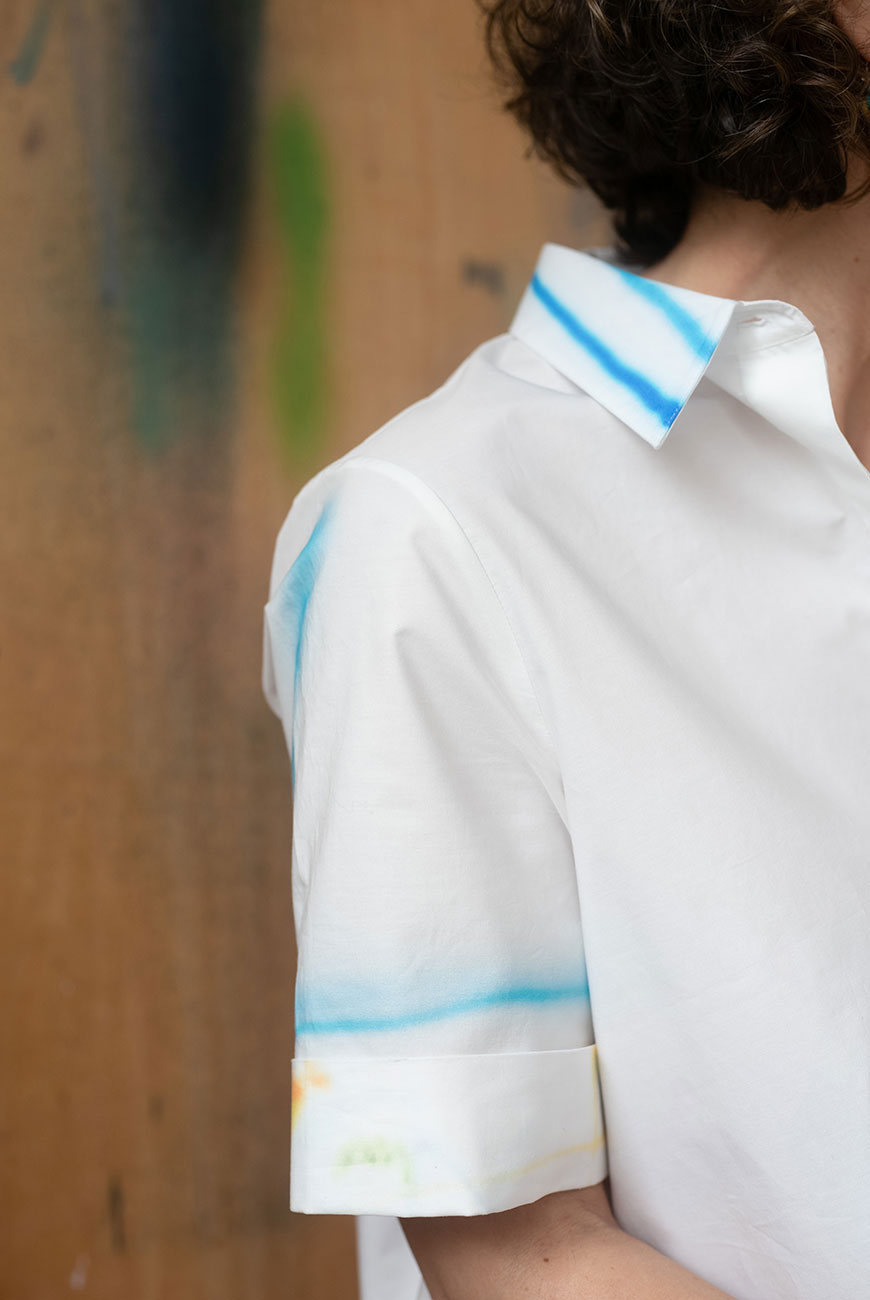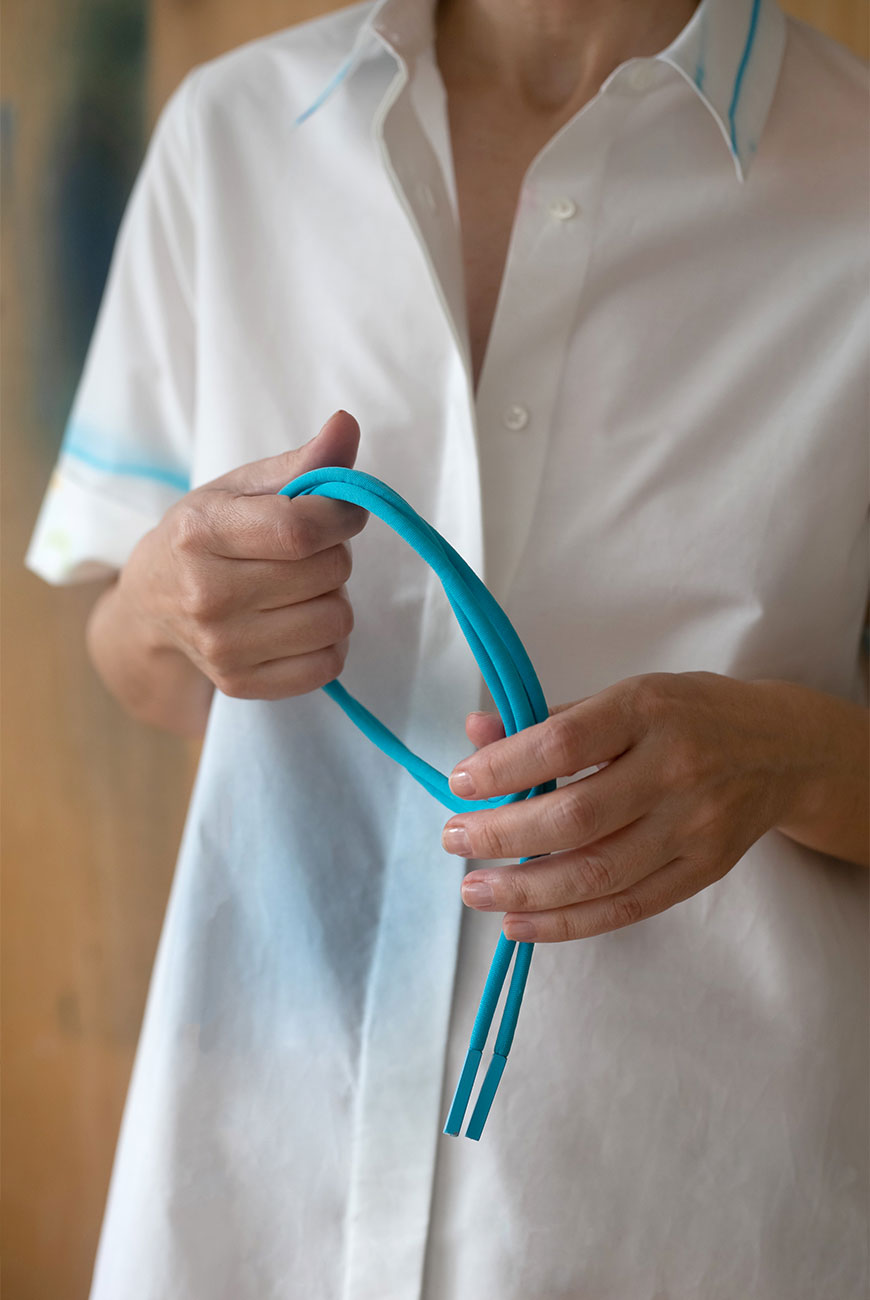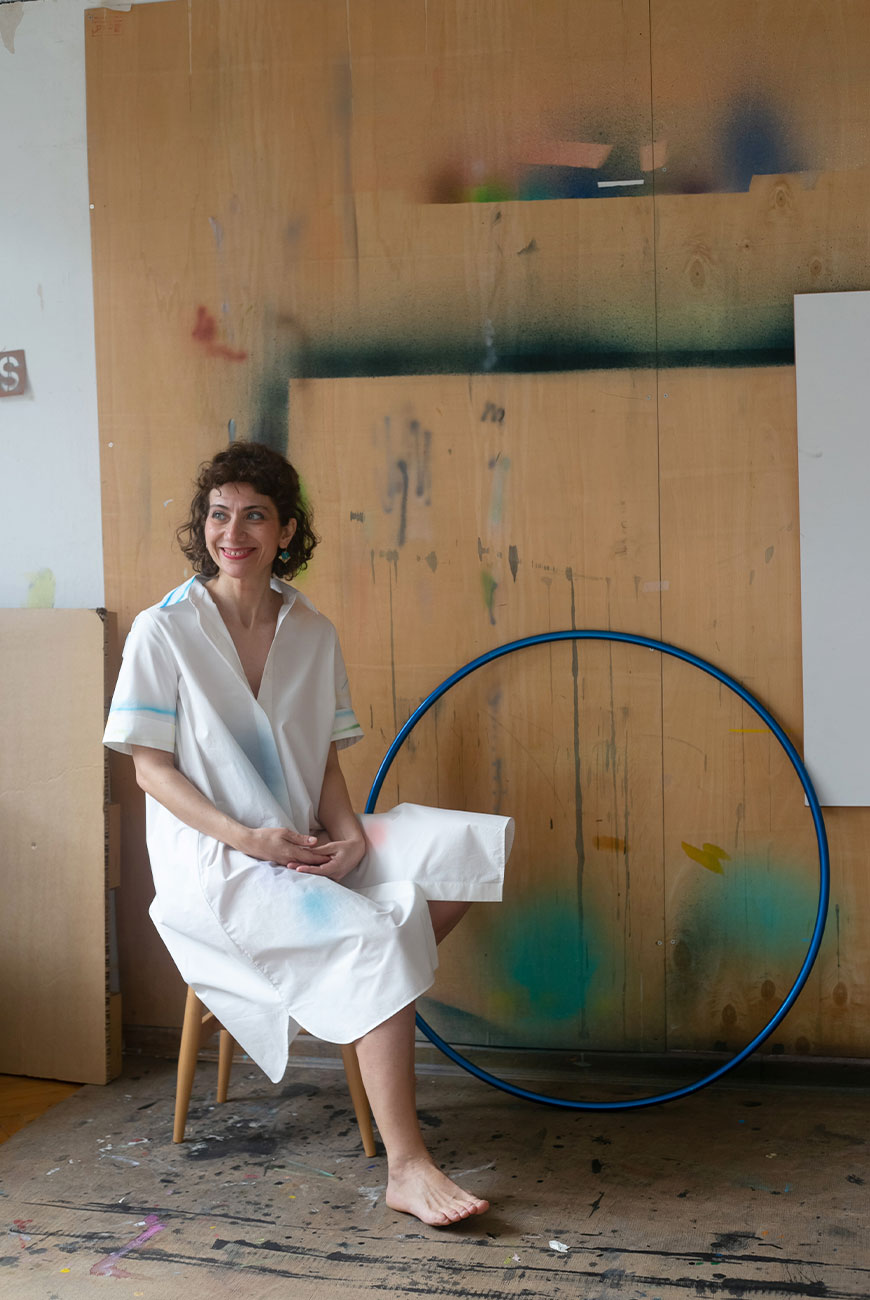 You designed two pieces for Bil's. Regarding the collection, "on Color", what did you have in mind when you started designing? What does your choice of lines and colours indicate?
I first came to know Bil's as a brand that designs white shirts, so I decided to refer to this very image of the brand and create a colour intervention using this image. I used a technique I've been using for the last three years: airbrushing. I chose blue as the primary colour to paint on the collar and sleeves in linear gestures, and I used secondary colours to paint round and square shapes on certain parts of the body. Also, there are colourful dots on the yoke of the long shirt. I thought of this whole arrangement as a dynamic colour transition. In the airbrush technique, which I am currently working with a lot, the colour concentrates in the middle and disperses on the surface like a powder. This vague distribution of colour and movement – not made by hand – serves as a reference to the history of the body and clothing in the context of shirts.
The collection you designed for Bil's and the exhibition at Bilsart as part of "Senkron: Synchronized Video Exhibitions" are both coming soon. Could you tell us about the relationship between the collection and the exhibition? How did the creative process go?
This has been really great for me! I was very excited about designing shirts and I started out by thinking to myself that I would like to make an exhibition. I drew the patterns of the shirts on tracing paper and pieced them together – a method I used in the past. It was then we visualised the three-dimensional version of the idea and made a decision together. After the shirts were produced, I set up an interior fragment for the video from the rolls of tracing papers I used in my studio, where everything originated; this fragment is called "Rehearsal". In addition to this, there are references to my video performance "I Found This on the Way", which was my solo exhibition at Arter. For that particular exhibition, I stacked the materials and set up a still life on the table. For this exhibition, however, that still life spread all over the place.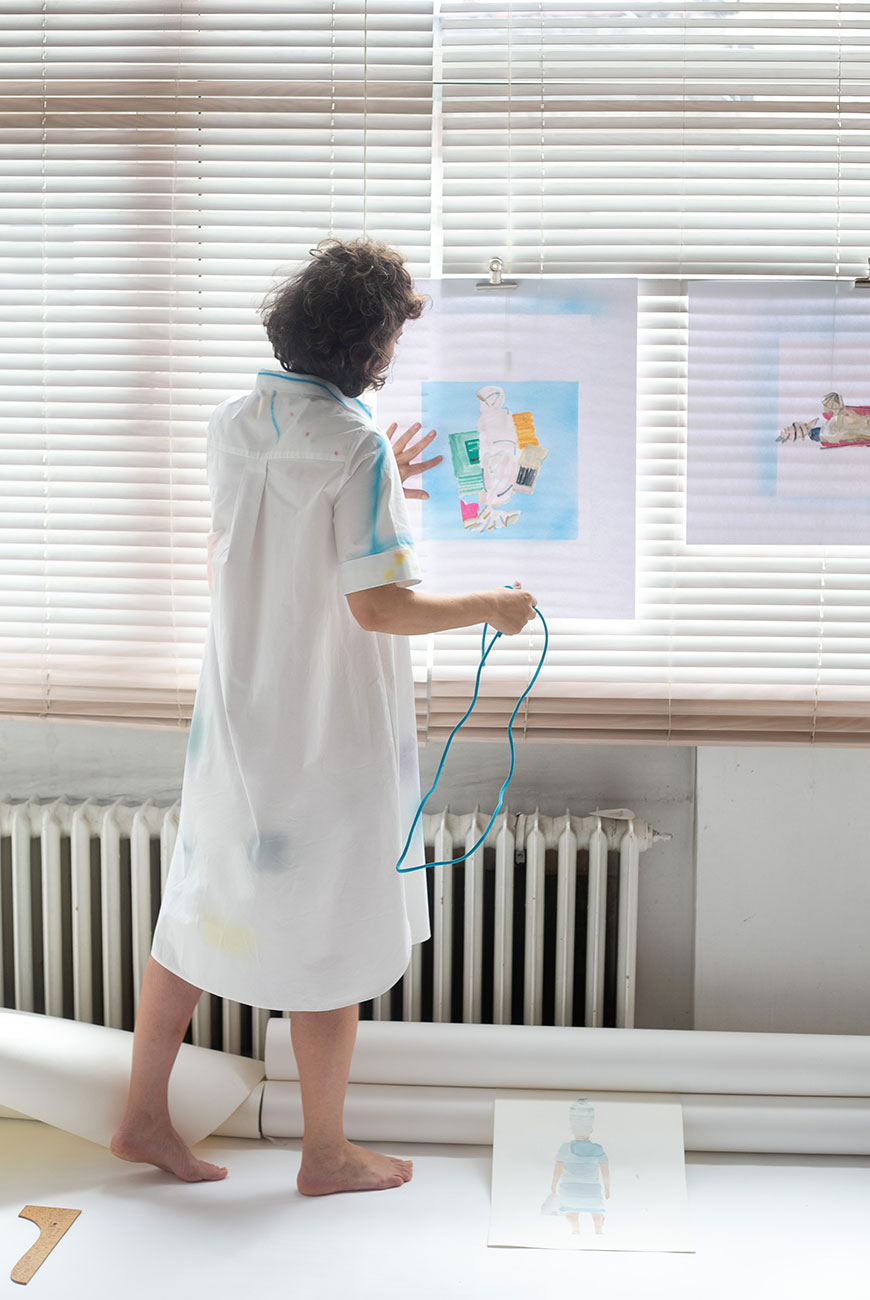 What awaits visitors at your exhibition, which will take place at Bilsart as part of "Senkron" from April 15th-30th? Could you give us some brief information about your video performance?
In "Rehearsal", I wore a shirt dress and gave a performance of simple everyday gestures and movements. It's basically like a shirt manual. I'll show two variations of it at Bilsart. I have made an installation that I can adapt the interior fragment I initially set up in my studio to Bilsart's space. Thus, we will be able to show the production process of the shirt.
What do you pay attention to the most in your exhibitions and collaborations? What are the points that you focus on during the process?
Usually, my exhibitions have processes spread over time, and every piece and thought related to the exhibition is formed in those processes. First of all, the space is extremely crucial to me – where is it and what kind of place is it? What kind of institution is it, what has happened in it, what is still going on within its walls or as it applies to Bil's – what kind of brand is it? For instance, this work is different from holding an exhibition in a gallery or museum. I'm collaborating with a brand, so it's even more interesting to me. The relationship between art and design is highly clear and functional. It was more convenient for me to show the exhibition and the non-exhibition process as an interface.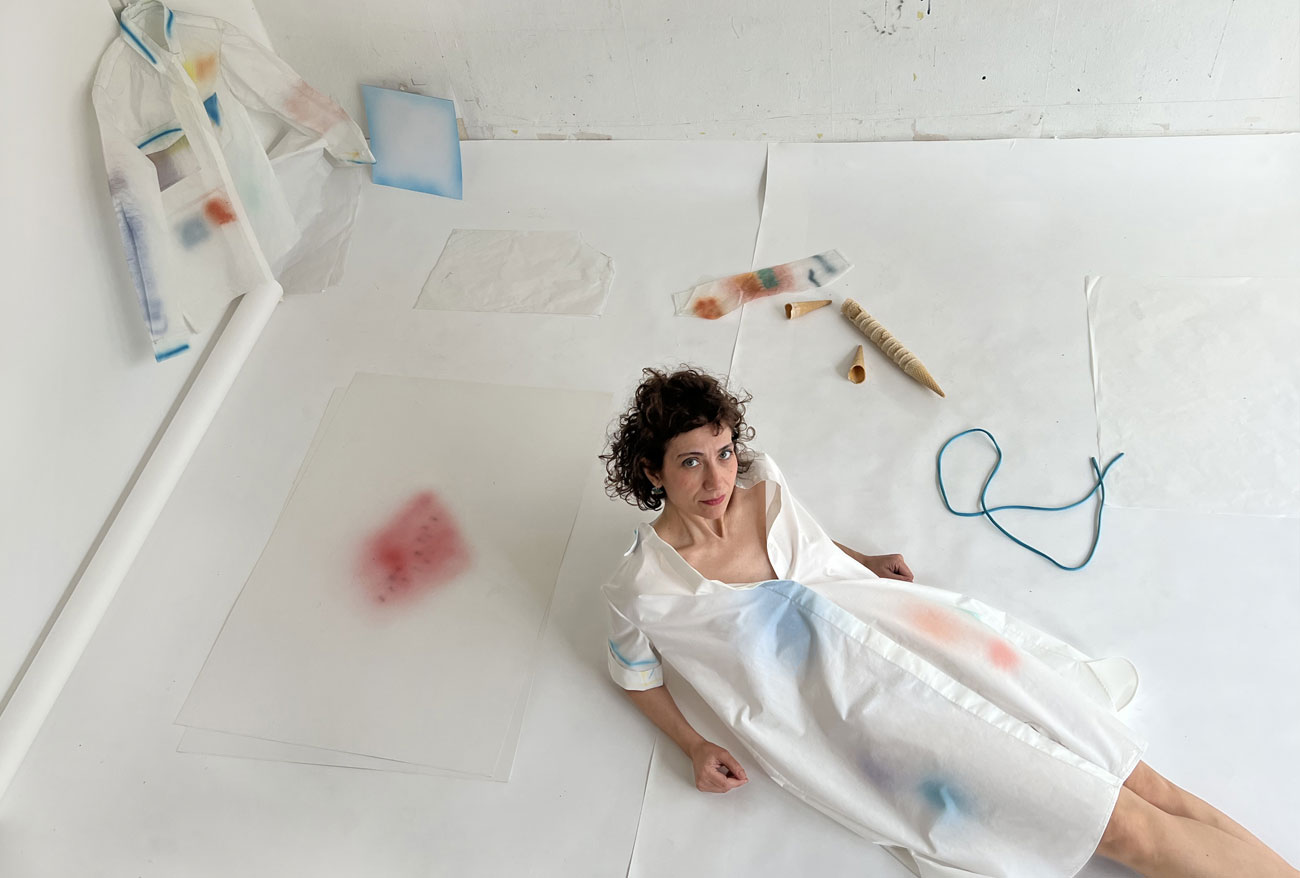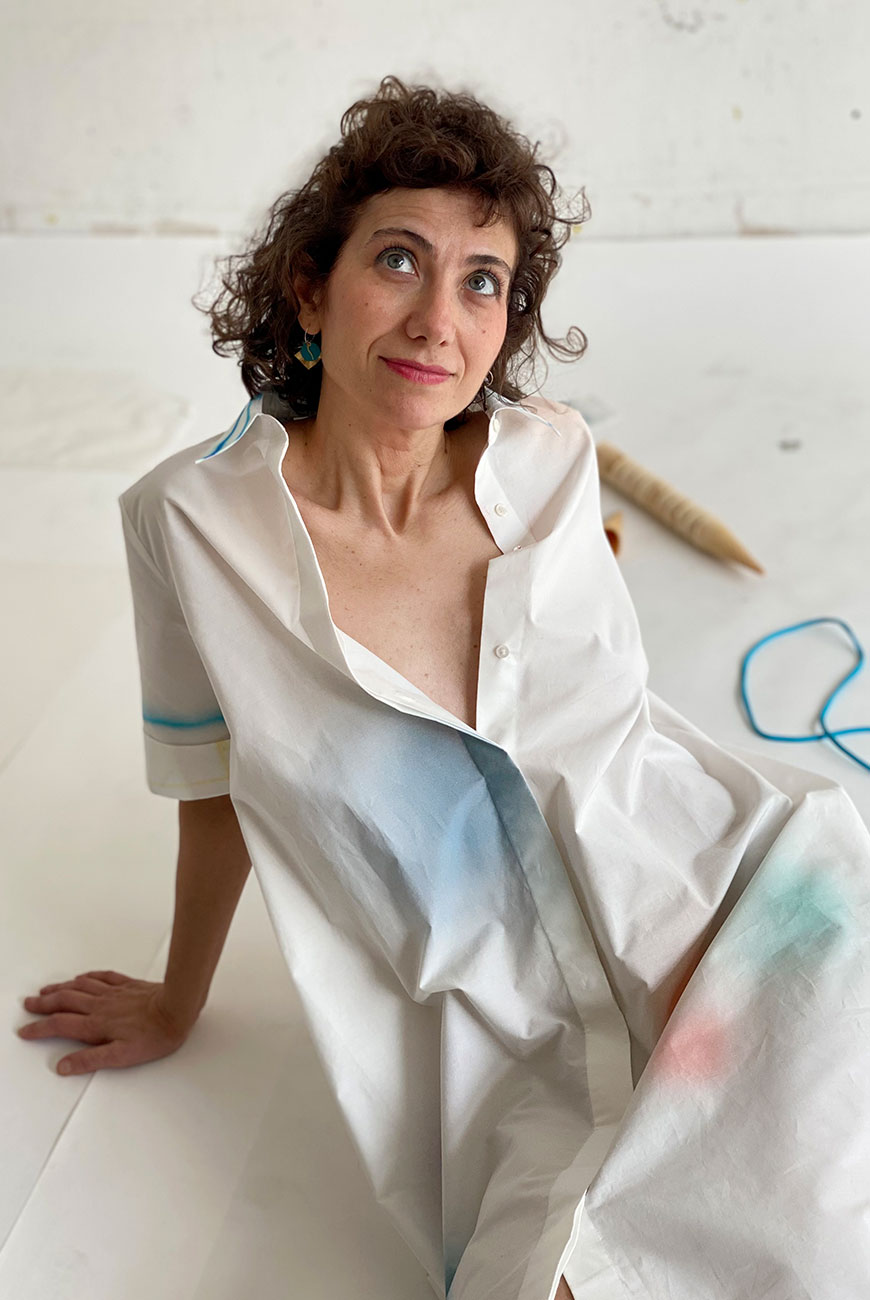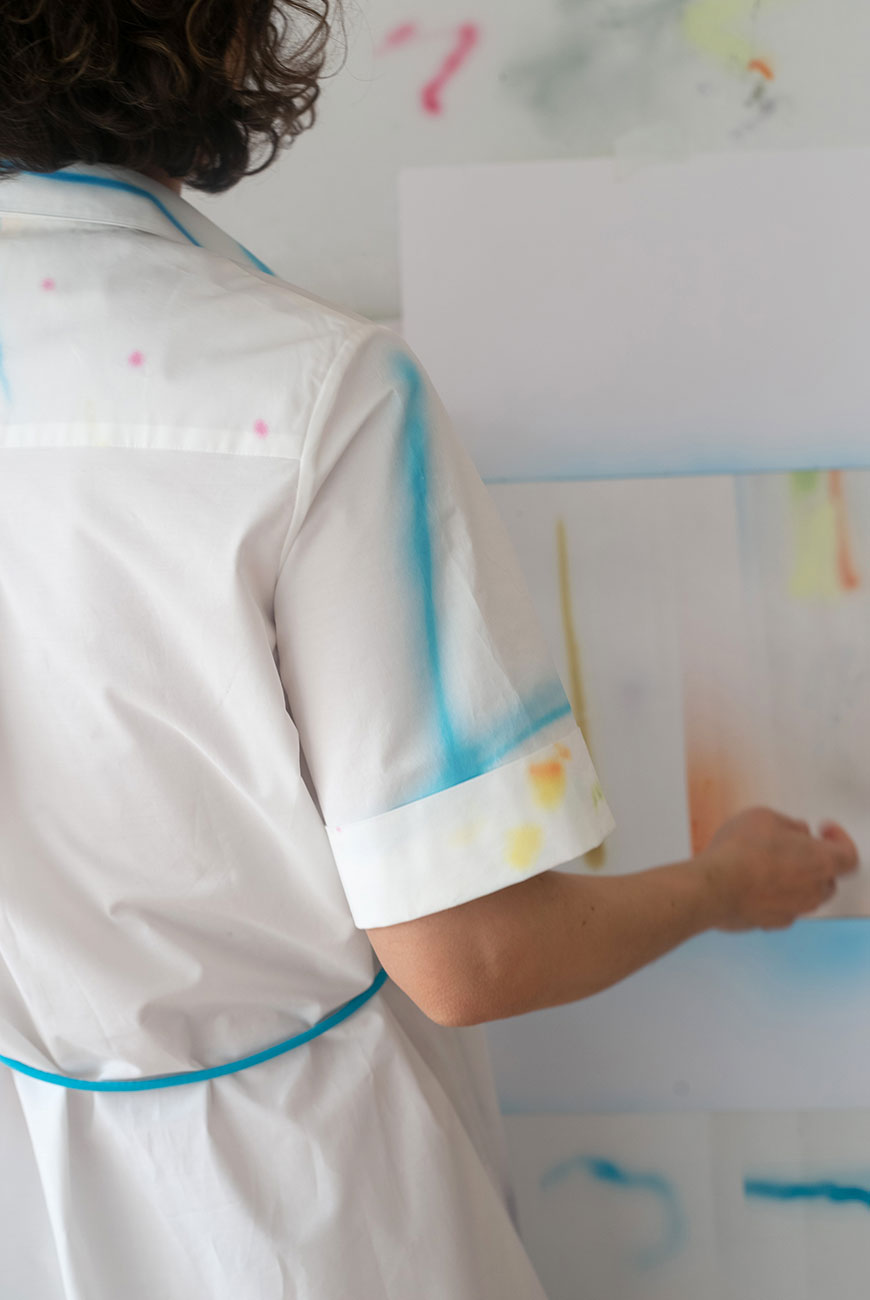 Do you have any advice you would like to pass on to emerging artists?
For me, art is an area of lifelong stance, positioning, thinking and idea generation. Us artists can always measure the things we produce with these values. This might not sound like very good advice, but it's worth thinking about. ????
Is there a "power sentence" that boosts your mood that you would like to share with us?
Openness, hybridity, experimentation, play…
What subjects are you currently working on? What awaits us next? Could you tell us about your future projects?
There are some ongoing projects, of course. But I'd rather not talk about any of them, as I'm concerned it might disrupt the natural flow of the creative process. So, I prefer observing it and not allowing any form of intervention. You'll have to wait until 2023. ????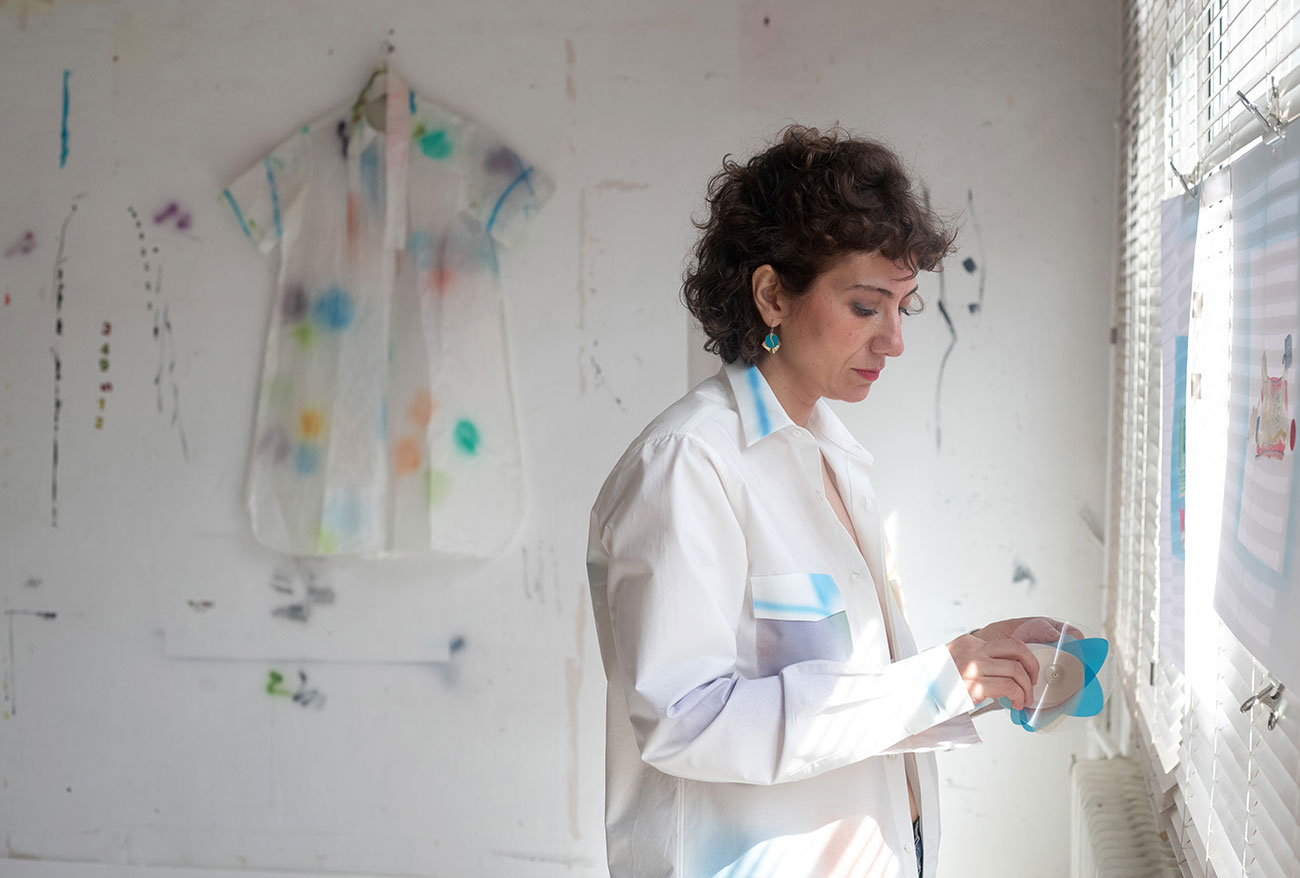 You spend a lot of time in your studio. Could you tell us about your relationship you have with your studio?
I love my studio so much. I bring things I found outside into the studio and vice versa. This is the place of thinking, solitude, daydreaming and experimenting for me – this is where everything originates.
Would you like to share any Spotify lists you like listening to while working in your studio?
Let me share with you a wonderful album by a Japanese musician that I listened to while making the shirts.
2 Tone by Shuta Hasunuma U-zhaan (2018)
We thank you for this candid conversation and invite everyone to listen to this playlist in the background while perusing the collection. ????
https://sptfy.com/inci-furni